Short, Sweet, and Snappy Review
Title: Slippery Souls
Author: Rachel H Dixon
Genre: Urban Fantasy /Paranormal
What I liked: The strong characters and how she mixed the fantasy with the recognisably normal.
What I didn't like: the prologue and epilogue, whilst they did not detract from the plot they did not add anything to it.
Recommended Read: Yes.
Rating:4 stars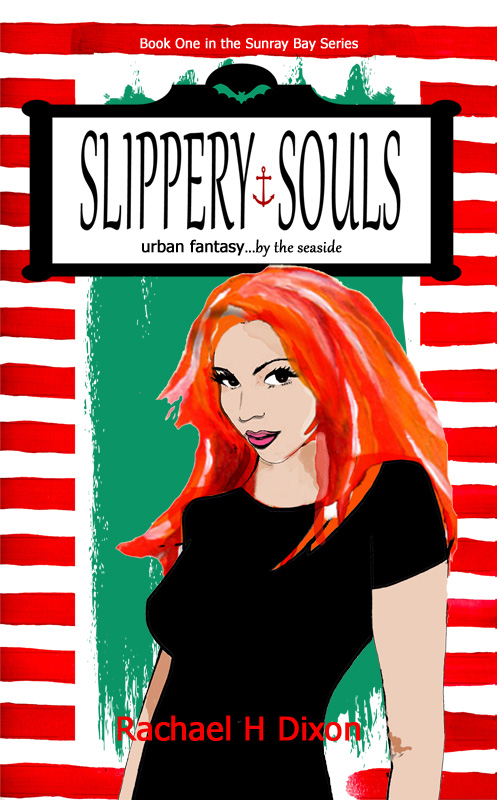 Synopsis: Libby has hit a bad patch in life and, just when she thinks things can't get any worse, she's killed in a car accident alongside her dog Rufus. During their transition to the afterlife's Sunray Bay, Rufus somehow manages to absorb her soul – which, in turn, gives him human-like qualities and renders her soulless.
Accompanied by her now talking dog, Libby tries to unravel the mystery of her slippery soul, encountering many setbacks and dilemmas along the way. She has no idea why a group of monster slayers, headed by an ex-convict, are hunting her down, and when she teams up with rogue Peace & Order Maintenance Officer, Grim, she's shocked to discover that there's a mob of disgruntled vampires and a very angry mayor hot on their heels too.
Libby has never felt so unpopular, and begins to wonder whether it's possible to die twice in one day…
Ange review
I paid for this book after meeting Rachel at an author talk and I wasn't disappointed. This is not a genre I normally read but I was glad I did. I found this an enjoyable read with plenty to engage a reader and keep their interest. I simply could not put this book down once I started to read it. And this book has gotten better with repeated reading. Little things you may miss in the first reading become apparent adding humor and emotion to this little gem of a book.

In fact, there was only a few minor  thing stopping me from giving this a full five star rating. One was the epilogue and prologue, I felt neither of which was needed. The other part was part of the ending, without giving it away something happens to a character that brings an emotional kick but seemed to have no indication that it was going to be revealed. However it is possible that Rachel is going to explore this in one of the further books so I shall reserve judgment. Finally this book has a strong regional voice, whilst I understood all the references in the book, not every reader might. A lot of the references can be worked out in the context they are used or easily googled however some readers may find them confusing or off putting.

Having said that, the story was fantastic with  a good blend of drama and humor. I especially liked the three main characters of Libby, Rufus and Grim who were very well developed and each with their own stories. Their stories did not overshadow each other, instead they provided a great contrast and collided together in a most satisfying way. However the supporting characters were  a very lively mix providing at least one character the reader can relate with. This may seem odd to say this given that they are  traditionally paranormal creatures of werewolves, witches and vampires however the way Dixon has wrote them makes them seem very real. The attention to the little details provided a grounding in reality that made the fantasy elements really come alive.  I really enjoyed reading this book and would highly recommend that you read it.